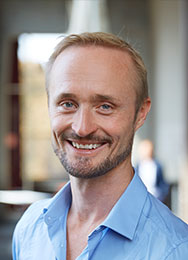 Armin Frauenschuh
Ballet Master & Dance Teacher, Choreographic Assistant

The Austrian began his education at the Salzburg State Theatre with Prof. Rosa Hartlieb and he completed it at the School of the Hamburg Ballet with John Neumeier.
Already during his studies he was awarded the Birger-Bartholin-Price in Copenhagen.
His professional career began in 1993 at the Dresden Semper Opera Ballet, where he was soon promoted to soloist by artistic director Vladimir Derevianko, and where he performed for a full 13 seasons.
He received a teaching position at the Dresden Highschool for Music and Arts, Carl-Maria-von-Weber.

He then joined Lode Devos' Ballet Chemnitz for another seven years, where he also directed the ballet school and was a choreographic assistant and training director to the company.
His experience is strongly influenced by working with numerous famous choreographers such as John Neumeier, William Forsythe, Uwe Scholz, Glen Tetley, Jochen Ulrich, Stefan Thoss and Johan Inger.
Well-known pedagogues such as Peter Appel, Kevin Haigen, Christiane Marchant, Giselle Roberge, Andria Hall, Noella Pontois and Truman Finney have shaped his artistic development.
During the two decades of his dancing career, he performed as a soloist in more than fifty stage productions ranging from classical and neoclassical repertory to contemporary creations.
Guest performances, tours and gala invitations led him to many theatres all over Germany, Italy, France and Switzerland.

After his retirement from stage he has worked as a ballet master for Tomasz Kajdanski at Anhaltisches Theater Dessau.
Since the 2014/15 season, he has been working in the same position for Ballet Augsburg, where he also took over extensive tasks in ensemble management, production assistance and dramaturgy,
and was appointed deputy of the ballet director Robert Conn at the 2016/17 season.
From September 2017 on, he will be responsible for the company management and training instruction alongside the new artistic director Ricardo Fernando.
As a much requested guest teacher, he was regularly invited to the ballet companies of Basel, Wiesbaden, Leipzig, Gelsenkirchen, Würzburg, Halle, Münster, Eisenach, Gießen, Salzburg and many others.
At the Munich International Ballet School he taught master classes and summer academies.
He is also a presenter of gala-events, among others at the Munich Gasteig and the Theater Augsburg, and gives introductory lectures and workshops on the subject of dance.
Regular choreographic works and assistances in the musical theater and drama complete his previous work.